You will no longer smell by hearsay
Your olfactory memory is the cornerstone of tasting. Train it! Let Le Nez du Vin, Le Nez du Café and Le Nez du Whisky be your teacher, your guide, a game you play with friends and family. Just get started and you will make quick progress.


Pick a vial at random, smell it and play the game, without turning to the list of answers. It may bring evocative, fleeting memories to mind. Ask yourself, what family does this aroma belong to?

Search your olfactory memory. Explore your memories. You may not be able to put a name to an aroma, though you are sure you know it, which can be somewhat disconcerting. Is it fruity? Floral? Vegetal?...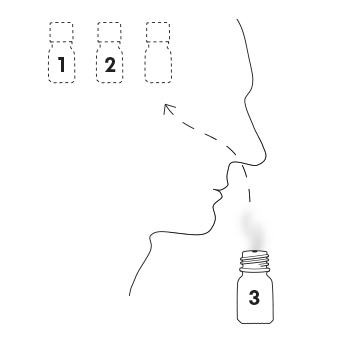 Then, look at the number on the vial and find it on the list of aromas. Now that you see the name of the aromatic note, of course it's obvious, you knew it! Repeat the exercise again with another vial. Practice this way every day with up to ten vials and you will develop your olfactory memory.


In a few weeks, for sure, you will be able to identify the aromas, the keys to recognizing what you taste.

You will no longer taste vicariously
Get started, choose an "instructive" wine, coffee or whisky, i.e. one with readily detectable, typical aromas, such as Gewurztraminer, Colombian coffee, or Islay single malt whisky.

Follow the tasting advice and protocols described in our books. You will discover lychee in the wine, caramel in the coffee and peat in the Scotch. Other revelations await you and will pleasantly surprise you.

Then check it against the collection, compare the aromatic note with related ones: rose or lychee? Butter or caramel? Peaty or smoky?

Tasting will take on a whole new dimension for you. Your perceptions become increasingly acute. You acquire the skills you need to appreciate and comment on the wine, coffee or whisky you taste.
Rising up to the Challenge
In October of 1980, a few months before the launch of Le Nez du Vin, Jean Lenoir was selected to compete against the British in the UK-France Wine Challenge organized by Le Figaro and The Sunday Times.
To achieve 6th position out of 30 amateurs competing in the final, he had 90 minutes to answer the following questions (after years of training!):

Question 1: Here are four glasses of white wine that each come from one of six regions: Chablis, Burgundy, Loire, Rhone, Bordeaux, Gaillac. N.B. two wines may be from the same region. Find the region of origin for each wine.

Question 2: Same question with four red wines from six regions: Côtes de Buzet, Bordeaux, Burgundy, Rhone, Corbières, Beaujolais.

Question 3: Here are three glasses of Bordeaux from the same sub-region (such as Saint-Emilion), from three vintages from 1970 to 1979. Classify them from youngest to oldest, and name the sub-region.

Question 4: Here are four wines: three reds and one white. They are all VDQS (Vins Délimités de Qualités Supérieures, a category which no longer exists) from one of these seven regions: Côtes-du-Roussillon, Gros plant du pays nantais, Côtes-du-Lubéron, Costières du Gard, Sauvignon du Haut Poitou, Corbières and Coteaux du Languedoc. Try and guess the four regions of origin.

You can draw inspiration from this challenge and blind-taste wines among friends, selecting wine-growing regions, labels and vintages to suit your knowledge, your preference and your budget. Whatever bottles and vials you choose, you will see how relevant Le Nez du Vin is in helping you perceive each wine's typical aromas. No worries: the winner of the challenge only got 50% of answers right.
By the way, while the French lost to the British at the first Wine Challenge in Bordeaux, they got even that year in the UK, coached by Jean Lenoir and his briefcase of 120 aromas, which a year later became Le Nez du Vin!