Léa Desportes, Head of Publishing, Training & Communications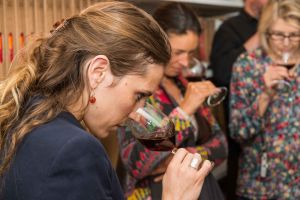 A graduate of Sciences Po Paris, Léa started her career in Bombay, where she developed the presence on the Indian market of French SMEs in food & beverage, in particular wine. She then specialized in the international trade of wine and spirits with a Master's degree in Dijon, France. After working in communications for a Côtes-du-Rhône appellation, she joined Éditions Jean Lenoir to coordinate communications for the company and its products as a whole, as well as to develop public relations and media relations.
Léa enjoys Cabernet Franc, known as « Breton » in Touraine, as well as wine made with the Mourvèdre grape variety, particularly Bandol wine for its liquorice note.

To contact her:
communication@lenez.com
Tel. : +33 (0)7 88 51 97 62
Emma Santiago, Accountant
Emma is the Provençal smile of Editions Jean Lenoir. Passionate about business management, she is in charge of accounting and sales administration.

She is responsible for dispatching orders: finding the best shipping solution at the best price, and ensuring proper delivery, especially for exports. Every day, some 40 packages leave Carnoux-en-Provence for the world over.

Emma never lets our accounts get in the red, but that doesn't apply to her glass of wine. Emma particularly appreciates Gigondas for its freshness and its red fruit and pepper notes.
Marie Viva Lenoir, Business Development Manager for France, Nothern Europe, United Kingdom, United States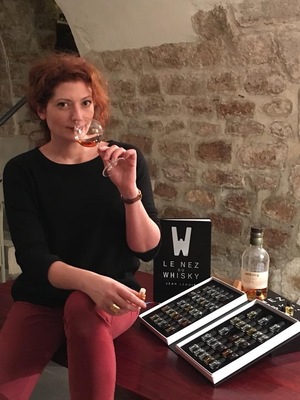 Before joining our company in 2014, Marie Viva held various positions in communications and artistic fields, including journalist, voiceover actress and television commentator. An Anglophile, Viva has worked in the United Kingdom and Canada.
A diverse career path that leads to... Le Nez! It should be an easy transition for Jean Lenoir's daughter who was born a year after Le Nez, and who first tested aromas on her father's lap.

Though she was baptized with Champagne, Viva confesses a weakness for Loire Valley white wines. Vouvray wines, which develop notes of acacia, hazelnut and fresh almonds, thanks to the Chenin grapes. And Sancerre and Menetou-Salon wines, with notes of grapefruit, lemon and blackcurrant bud, the hallmark of Sauvignon Blanc. Still —good seed produces a good crop— she also appreciates Chambolle-Musigny with its delicious violet scent.

To contact her:
marieviva.lenoir@lenez.com
Tel. : +33 (0)6 76 25 83 55
Fanny, Business Development Manager for Asia, Europe, South America
Although a native of southern France, Fanny chose to study in the heart of the wine-producing area of the Loire Valley, first at ESSCA (Ecole Supérieure des Sciences Commerciales d'Angers) and then at ESAA (Ecole Supérieure d'Agriculture d'Angers); and during these studies she traveled to observe wine production in Italy, Spain and Portugal.

Fanny went on to a varied professional experience in grape growing and wine production functions in several countries, serving as Assistant Cellar Master in a wine store in Argentina, Project Manager in a communications agency specialized in the wine industry, and as a representative for select labels.

After attaining level 3 of the Wine & Spirits Education Trust (WSET), she joined Editions Jean Lenoir in 2014 to expand sales abroad, particularly to Asia.

Enchanted by Argentine wines, Fanny cannot resist the dark fruit aromas of a Malbec or the fruity exuberance of a Torrontés.

To contact her:
fanny.christophe@lenez.com
Tel. : +33 (0)6 45 47 47 95
David Bouquetot and Augustin Laroche
Production at Éditions Jean Lenoir requires attention to detail and strength, to put together all of our book-objects and manage the warehouse in Carnoux-en-Provence. We found the right people in David Bouquetot and Augustin Laroche.