Passing of Jean Lenoir, creator of Le Nez du Vin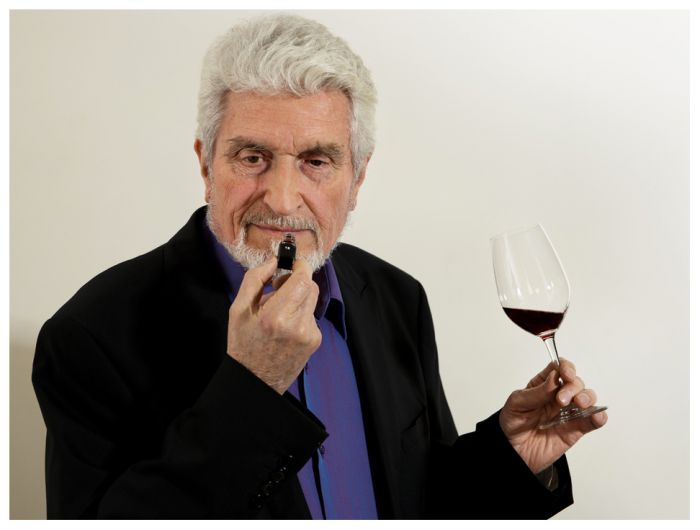 Éditions Jean Lenoir are sad to announce the passing of their founder on February 22nd 2023.

Jean Lenoir was born in the Côte d'Or on September 23rd 1937, on "the day of the grape harvest", as he liked to say. The tenth generation of a Burgundian family, his accent and his taste for wine bore witness to this identity. If his everyday preference was for "an intensely-coloured red with unforgettable fruitiness" (his own words), Jean's initial experience of a "love at first sight" wine was a Chassagne-Montrachet uncorked for his 18th birthday, which was to remain his favourite wine for life.

Jean Lenoir's first love did not become his profession straight away. Successively an educator, cultural leader and director of an MJC (education and cultural centre), he changed career direction at the age of 40 when he was deputy director of the Maison de la Culture in Chalon-sur-Saône. Wanting to introduce a taste- and smell-related element, he took courses at the Burgundy oenological centre (INRA, Beaune) with oenologist, researcher and sensory analysis pioneer Max Léglise. As a result, he became aware of wine's rich diversity of aromas, as well as the challenge of of identifying them.

In 1978, he launched the first introductory course in wine tasting in a Maison de la Culture with Georges Pertuiset, who was voted Meilleur Sommelier de France (France's Best Sommelier) in December 1980. Jean Lenoir was the first to include wine as a work of art within a cultural establishment, in the same way as music or painting.

In the same year in Manosque he met Olivier Baussan, who had recently created the company L'Occitane en Provence. They swapped a crème de cassis from Burgundy for extractions of essential oils of thyme and rosemary fresh from the still, which became the start of a collection of 120 aromas that Jean used to run initiation courses throughout France: he met with great success everywhere he went. Encouraged by the artist Daniel Spoerri and his idea of a book-object, in 1981 Jean invented Le Nez du Vin, a book of writings and smells. With a preface by Jules Chauvet and Jacques Pertuisais, this "revolution of the palate" was received with surprise and admiration.

In 1997, at the request of the Federación Nacional de Cafeteros de Colombia (National Federation of Coffee Growers of Columbia), he created the Le Nez du Café collection. In 2013, working with renowned experts Charles MacLean and Martine Nouet, he created Le Nez du Whisky.

Since that time, thousands of "noses" of professionals and amateurs around the world have been educated with the Le Nez du Vin kits. Translated into 11 languages, these olfactory alphabets provide a universal language for describing wine and sharing its pleasure. More than just a simple training tool, the aroma bottles stimulate our emotions by opening doors to the soul and awakening what can be very distant memories.

Based in Provence for forty years, and in a brand new workshop in Cassis since 2020, Éditions Jean Lenoir has remained faithful to its founder's values: French manufacturing based on craft traditions and a constant quest for quality, to create realistic and stable aromas.

Although Jean Lenoir chose to live in Brittany with its iodised sea spray in the final chapter of his life, the climats of Burgundy were always guests of honour at his table right until the end. These plots of vines painstakingly-shaped by the human hand illustrate perfectly writer Pierre Veilletet's declaration that "there is no such thing as a predestined vineyard, but only the stubbornness of civilisation." By giving us the vocabulary to speak of these fruits of the earth, Jean Lenoir has made his contribution to the building of this civilisation.